Stroke Champions + Design Rockstars was a workshop at the intersection of healthcare, entrepreneurship, and design as the culmination of an
Archeworks
Research Fellowship with the
Rehabilitation Institute of Chicago
exploring human-machine interface for stroke champions and persons with cognitive disabilities.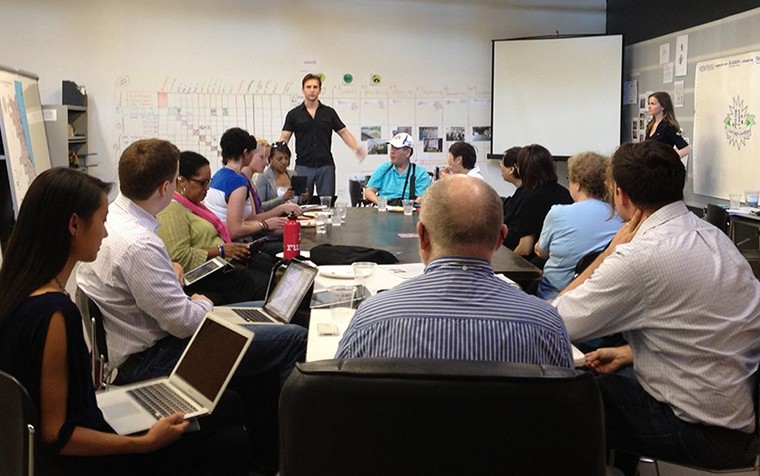 Opportunity
How can entrepreneurship, design, and product development be more inclusive of stroke champions and others with functional cognitive differences?
Solution
Bring together designers, programmers, entrepreneurs, stroke champions, physical therapists, administrators, investors, and educational professionals to learn what universal accessibility means through direct experience and communal conversation. Participants depart with new insights and understanding as well as relationships for further follow up.
Stroke Champions
Directly participate in start-up innovation
Learn about health-tech entrepreneurship, user experience design, and product development
Offer valuable feedback to entrepreneurs trying to solve problems relevant to them
Education Professionals
Functional model for entrepreneurial education workshop
Understanding of interactive exercises for people of varying cognitive function
Direct participation in private enterprise as educational tool
Makers
Learn accessible design via direct experience
Gain valuable product insights from potential users
Understand the holistic context by working with not only potential users but their caretakers and therapists as well
Physical Therapists
New tools for working with patients on problem solving
Bridging educational and business worlds in mutually beneficial ways
Participation in product development as patient/user advocate
Investors
More accessible design for portfolio company products means a larger market for potential customers
Firsthand knowledge of incorporating periphery personnel (caretakers et al) in business decisions for users
Artist/Designers
Graphic facilitation of healthcare problem solving
Experience working with stroke champions and persons with cognitive disabilities
Interpretation of workshop conversation into business insights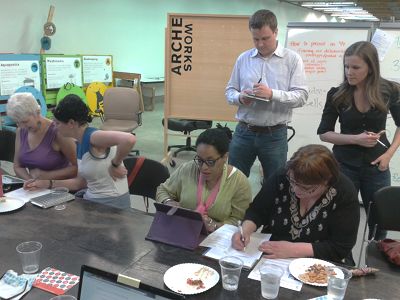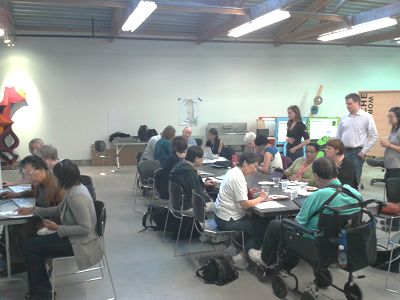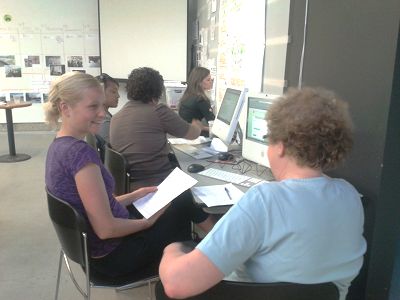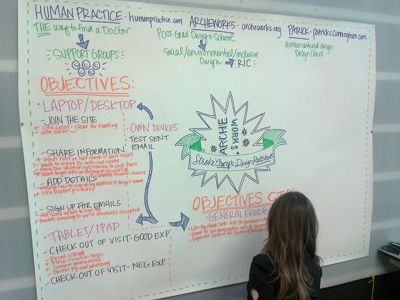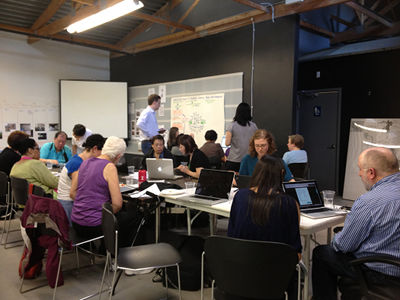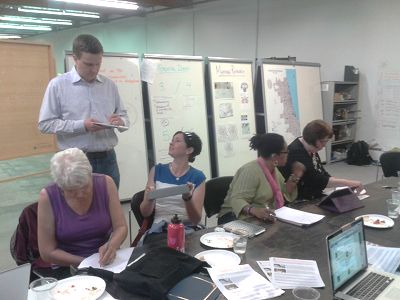 Detailed Workshop Summary
Undergoing the Archeworks Research Fellowship exposed a need for improved, as well as tangible, methods for educational engagement between people who develop tools and the persons who utilize them. Focused specifically on stroke champions, it became abundantly apparent that they are often left out of the product development process. An opportunity to involve them in the process while educating designers, programmers, and entrepreneurs on universally accessible principles become clear. In order to do so effectively, a workshop structure was created which involved direct experience for all parties so users could learn how the tools are made while the toolmakers could learn from users in direct context. The workshop took place at Archeworks on May 14th 6 - 8pm, 2013.
STRUCTURE
Participants began the workshop gathered around a central table to hear opening remarks by Research Fellow Patrick C. Cunningham, Human Practice Founder Moses Hohman, and Stroke Champion collaborator Marshelle Samuels. Next, teams of two were formed voluntarily to take on objectives based User Experience exercises. Each team had a list of tasks to be performed with one individual navigating and narrating their experience while the other would take notes as well as generally document the process. After completion of a task, roles would be switched to take on the next objective.
When all teams had, for the most part, completed the activities a group discussion ensued which focused on both the workshop as well as larger issues for stroke champions, designers, and entrepreneurs to utilize more universally accessible principles. New ideas for Human Practice as well as ways for stroke champions to become more involved in product development were brought up. Examples include new service offerings for HP based not only on their core function of provider recommendations but tangible assets/equipment as well as involvement in forum discussions on product development among other methods for stroke champion engagement. Conclusion of the workshop involved Moses Hohman inviting stroke champions to send additional feedback as well as asking permission for following up with questions. A final wrap up conversation happened organically as people were leaving the workshop and additional ways to stay in contact were developed.
*A more complete list of tasks and objectives is listed at the end of this document.
PARTICIPANTS
Stroke Champions - persons who have experienced stroke at various points of recovery and ability.
Designers - visual and web designers who create interfaces for digital systems.
Entrepreneurs - founders and technologists with experience in creating software products, service companies, and healthcare. Also an additional individual who works with a healthcare accelerator program and sees a plethora of companies in early to mid stage development.
Therapists - physical therapists from RIC who work with stroke champion as well as an unaffiliated speech therapist.
Archeworkers - Executive Director Susanne Schnell, Program Manager Hillary Gabel, and Research Fellow Patrick C. Cunningham.
Artist - an artist who did graphic facilitation to map out group conversation onto a single large piece of paper. Discussion topics, highlights, and ideas were all documented to create both a central location for focus as well as to generate consensus along with spurring additional comments.
Human Practice - founded by Sehjin Han MD and Moses Hohman PhD, is a local Chicago start-up company helping patients find doctors and other providers through people they trust. They are an early stage company and chosen partly for this reason so they can utilize feedback to incorporate accessibility principles as they grow. [https://humanpractice.com/]
CONCLUSION
There was an overwhelmingly positive response from stroke champions and everyone else involved. Based on feedback during the workshop as well as afterwards, participants from all backgrounds felt educated and empowered through the interactive convening of people, content, and technology. As a model, there exists tremendous potential to evolve the concept as well as refine the workshop structure for future iterations.
Potential applications include methods for education as well as developing new technology to aid stroke champions in addition to adapting existing tools for increased accessibility and efficacy. Further development of the program has the potential to benefit a wide range of persons with disabilities as the model is modified and adapted to new uses as well as greatly improve universal accessibility awareness.
EXERCISE STATION STRUCTURE
1. Two people per exercise station. One person will undertake a task, the other will document, then switch if time.
2. As you undertake the objective, think out loud as much as possible to narrate your thought process and what is happening.
Example: "I'm opening the email, am looking for the link, clicked it. I can't find where I'm
supposed to put in my name. It's hard to see the intro text. Hmmm, these colors are
hideous..."
3. While person 1 is narrating, person 2 should be taking notes and listening. Person 2 should try not to interrupt with questions or suggestions but really focus on being present and understanding the thought process. Feel free to also write down observations on behavior:
"John seems to be squinting a lot and moving closer to the screen..."
4. After the objective is complete, switch roles and do the same objective or try a new one depending on which station you are at.
5. If time still remains, feel free to discuss results and potential improvements. Document suggestions and ideas on provided paper.
TASKS
Laptop/Desktop computer:
1. Join the site with a given group code (as a link in an email: https://connect.humanpractice.com/users/sign_up?group_code=DT698C )
2. Share information about a doctor you love with your fellow support group members using the site.
3. Add more details about your recommendation of the doctor you shared in #2.
4. Sign up to receive monthly emails about your health from one of the doctors recommended on the site.
On own devices (laptop or mobile):
5. We will send you an email containing a health tip (pretend it's from your Occupational Therapist).
Tablet (provided iPad):
6. You've just seen your favorite occupational therapist, and you had a great visit. At the checkout desk, you encounter the iPad. Please use it as if you were checking out of your visit.
7. You've just seen a new occupational therapist, and you were unhappy that he kept you waiting for a long time before your appointment and felt he could have treated you with more respect. At the end of your visit, you visit the checkout desk and encounter the iPad. Please use it as if you were checking out of your visit.