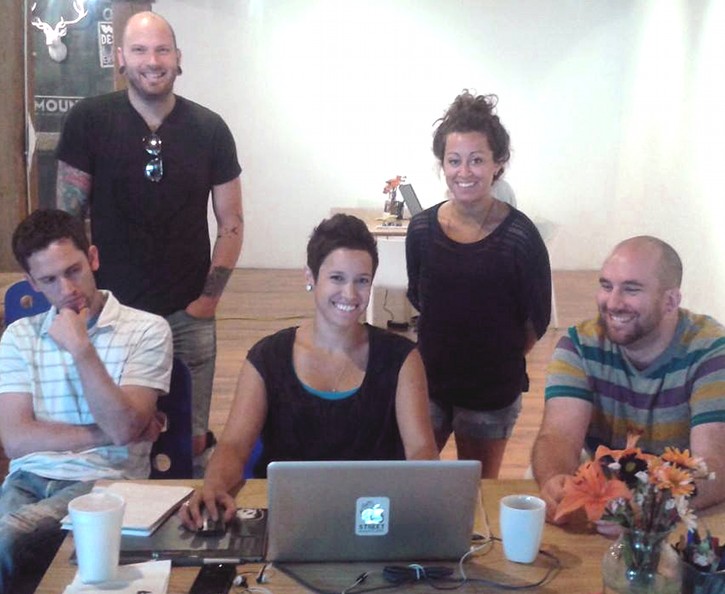 Business development lead and human centered design with hybrid creative firm / art gallery Design Cloud.
I worked closely with clients to identify areas for improvement and design programs to achieve success. In other words, I got to ask "Why?" a lot. It helped clients get to the crux of their problems. Then we could assemble the appropriate team to create the right solution(s) through a wide range of disciplines. Design, UX, UI, web/mobile development, business strategy, Art, events, marketing, outreach, branding, etc. were all in the toolbox. The picture above are team members with whom I had the pleasure of working and who, as a team, always strove for excellence.
My work for various clients at D:CL is governed by various contract stipulations around privacy but you can contact me to discuss the best way to review portfolio items during this period.
A few examples include:
Health-tech Company Branding
Re-branding project for a growing health tech company where we had the opportunity to dive deep with senior executives to find the best way to tell their innovative story. Included both public facing components (logo, colors, overall aesthetic, etc.) as well as UX/UI interface for their member platform. We found they needed to communicate to a variety of key stakeholders at varying levels of technical expertise while retaining a consistency of brand to instill confidence and a sense of security in their platform. We helped define a brand that accomplished the technical but focused on the personal. Worked directly with the CMO and CEO to achieve project success and ensure they had the right brand and company tools for exponential growth with sharp communication.
Healthcare Association Portal
A large healthcare association had aggregated a gigantic volume of information that needed to be communicated to a variety of users in ways that were appropriate. For example, a congressional aid needed a different kind of information delivery (basically facts & figures quickly) versus a hospital CEO who might be more interested in browsing for multiple operational improvement methods. We were able to closely collaborate with executives across multiple divisions to gain a thorough understanding of departmental needs and usage of information in their respective sectors. In the end, we delivered an interactive web portal that allowed users to navigate in a variety of ways for different purposes while still remaining concise and clear with delivery. Share-ability across social media and email were also key factors integrated so viewers could not only ingest but also disseminate valuable information in a timely manner.
B2B Re-Branding with CEO
I worked closely with a growing B2B service company CEO to design and implement a rebranding process to embody company core values and help potential clients better self-select. We conducted an in-depth strategy session then followed with design ethnographic research to get to the core of their company culture, work-style, and which kinds of clients would work best with the company. From there we worked closely with a team of D:CL designers and project staff to create fresh branding to accurately convey the company's unique value and ensure consistent communication. Through research and observation, we found the most effective communication occurred when the CEO was talking or giving a presentation so we translated those innate qualities of leadership and passion into a branding process. We evolved what worked on an interpersonal level for the CEO into a brand that functioned for the whole company which embodied the appropriate attributes. All of this was undertaken with key business goals of lead self-selection and strategic messaging to ensure the company spent less time in unfruitful business development and more time honing in on the right leads and clients.
Strategy with Company Founder
When an out of state retailer approached me about advice on branding and operational systems, I brought the project to D:CL for a team engagement. With design, business intelligence, and culture experts, we launched an in-depth strategy session to help the founder turn an intuitive and personal brand into strategic business decision making and processes. It was paramount to not only deliver structure and key insights but to also help the client maintain brand originality and the unique charm which was endearing to customers and community alike.